[Adv.] ASD Inc.
Published: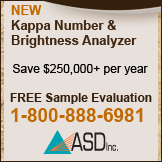 ASD has a very nice instrument for Kappa Number and Brightness measurement which they are featuring at the moment. I encourage you to check it out by either clicking on their button ads or "More" below.

And when you talk to ASD Inc., please tell them you saw their advertisements at Paperitalo Publications.

Regards,

Jim







Riddles by Travis:

This American term comes from the French language, loosely translating "at random." A less sentimental description would be "a collection of small pieces of junk".

You can find the answer by starting here.



Comment