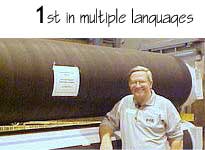 Week of 1 Feb 10

Click here, then click "Trans lator" in top navigation bar for other languages.



Way back when I was at the university, some of my classmates and I were out and about one evening. We drove by this large old paper warehouse on an industrial street. One of the car's occupants laughed about what an out of date business this warehouse represented (and this was in 1969).

Recently, I joined an organization which consists of a large number of people working in various industries and businesses. When I told them about my industry, they laughed and said, in effect, why would anyone want to be in an old fashioned, polluting industry such as paper?

Last fall, and I think I am repeating myself now, my wife, now in the aerospace industry, tried to exchange business cards with a gentleman from the UK. He would not do so and said he would email her his credentials--no way was he going to contribute to the deforestation problem by passing out business cards.

You correspondent is out on the road this week in the US states of Georgia and Florida. One of my earliest stops was at a Travel Centers of America Location on Interstate 20 in northeastern Georgia. There, in the restroom was an "Xcelerator" brand high speed hand dryer. On the dryer (and I wish I had taken a picture of this or copied the information down) was a sticker that told how many trees this dryer was saving and, further, how deforestation is essentially a crisis which we can all participate in stopping by blow drying our hands.

I found the manager and gave him a piece of my mind. He told me he was sympathetic, but the stickers come from headquarters and he can not do anything about them.

I went to the "Xcelerator" web site and found a whole green, anti-paper, argument. You can see it here: http://www.exceldryer.com/PressKit/Green.php.

Of course, what bothers me more than anything, is most people using these dryers and reading Travel Centers of America's sticker are not in our industry and, from this sticker are receiving an entirely biased view of the pulp and paper industry. This is an attack not only aimed at the away-from-home, or C & I, tissue market but at all of us.

Our industry associations have done a very poor job, as compared to say, the plastics industry, at defending our business in the court of public opinion. The funds spent over the years have been meager and ineffective. It is as if a bunch of papermakers, otherwise macho beyond reason, are suddenly cowered when it comes to facing the public. Folks, we are going to have to do it ourselves if we want to turn the tide of public opinion.

Two immediate suggestions come to mind. First, here is the feedback phone number for Travel Centers of America: 1-888-982-5528. Call them up and ask them to remove the stickers on the hand dryers or else you will not do business with them.

Next, if you are in charge of logistics for your company, you can use the attached letter or something similar to it to ask your trucking companies to encourage their drivers to not stop at Travel Centers of America.

Now, to be fair, I must say some Travel Centers of America sites still have paper towel dispensers. But it is clear, at least to me, they are in the process of changing over to the air dryers.

Funny, on the "Xcelerator" site they do not mention, what I have often heard, which is this: hand air dryers are almost the perfect system for dispersing any germs in the air in a public restroom.

In our weekly survey, we are asking about the reactions you receive when you tell people you work in the pulp and paper industry. Click on "More" below to take the quiz.

For safety this week, keep remembering to wash your hands! This is the easiest way to prevent the transmission of disease.

Be safe and we'll talk next week.