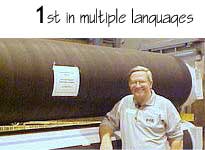 Week of 25 Jan 10

Click here, then click "Trans lator" in top navigation bar for other languages.



Many years ago, I recall my dad telling this story. He had been over to my uncle's farm and was out in the workshop. There my uncle had a number of 5 gallon buckets full of bolts, nuts and other such fasteners. Virtually anyone with a workshop has a bucket or two such as this. Dad, probably the most frugal person I ever met, was congratulating my uncle on such a collection. Response: "I don't have time to look through those when I need a bolt, I just go to town and buy another." What my uncle was really doing was not buying a bolt, but buying organization. Most likely he already had the bolt in question, he just did not know where it was. The hardware store knew where they had the exact bolt he needed--it was crucial to their business to be organized.

Paper mills, as well as offices everywhere, are full of opportunities like this. How much is spent every year by your storeroom on things they already have, but do not know where they are? I'll bet in the best organized mills this number is at least USD 250,000 per year. In the most poorly organized, I'll wager it equals the mill's profit (if they have one).

Even in small offices, it can be a costly problem. How many times have you had to buy new licenses for software because you can't find where you placed the license key?

Several years ago I went to a freight terminal to pick up a machine I had purchased--it had been drop shipped there and they did not offer residential delivery. This was a large terminal of a nationally recognized freight hauler. Outside the dispatcher's office was a bulletin board with the serial numbers of 10 or 15 trailers on it. The company offered $50 savings bonds to anyone who could find one of these trailers. They knew they were on the lot--they had been scanned as they came through the gate, they just did not know where they were within the confines of their own property! When I talked to a couple of employees about this, they said this bulletin board had a continual rolling list of such trailers.

Of course, the masters at organization are the overnight courier companies such as FEDEX, UPS, and DHL. Their business model is moving things rapidly so there is a huge incentive for them to know where all packages are all the time.

Most of us, and most of our companies, don't need the sophisticated systems of the overnight couriers. In fact, we can succeed just by cleaning up and organizing our work spaces, whether they be our own office, our maintenance facility or our warehouses. Buying the organization is expensive in so many ways. This would be a good initiative for your mill to track this year. You will be surprised at the savings.

In our survey this week (see what do you think, below or click on "more") we are asking you to estimate how much time you waste every year looking for things.

For safety this week, ever noticed how well organized EMT's keep their gear? Again, time is of the essence and they cannot afford to let anything be out of place. Of course, we can do one better than that by never having an accident that requires the EMT's to visit us.

Be safe and we'll talk next week.